Off-season holidays
A whole range of considerations need to be taken account when planning an excursion or a holiday. Whether to prioritise convenience or price when it comes to picking accommodation, whether to go for full board or save a little on food, whether the whole family or group of friends can be put up comfortably or figuring out who will sleep where is going to be a difficult puzzle to solve, and so on and so forth.
Even if your family boasts an experienced organiser of trips, they may be unaware of the plethora of benefits associated with off-season holidays.
Read on to find out what these benefits are.
Less crowded and more relaxing
First of all, there are those who do not like crowds. Not because they have a phobia of some sort, but simply because when there are many people, you have to accommodate a lot of different preferences, and you may simply not feel like doing so. This is particularly true when you are longing for some rest and recuperation. Crowds also mean noise, the risk of not being able to find a suitable spot on the beach, or queueing for ages for ice cream and snacks. Things like that will make the holiday less enjoyable, and may force you to make unwanted compromises. In short, scheduling your holiday for the off-season will pretty much guarantee a more relaxed time.
Familiar atmosphere
This is somewhat related to the previous argument because, to a lot of us, a perfect holiday means that we feel right at home. We enjoy being looked after, especially when are footing the bill. If your resort is crowded, and especially during the peak periods, you may miss out on some of that personalised attention, which can also cause inconvenience. The waiter gets your order wrong, the host is too busy to join your table for a friendly chat, all the places for an activity are taken up or what you are looking for has just run out, and many other, similar issues. If you want to avoid this headache, pick accommodation that is less crowded, and pick a time when there are more likely to be some vacancies. This way, you can practically guarantee you will be receiving first-class service.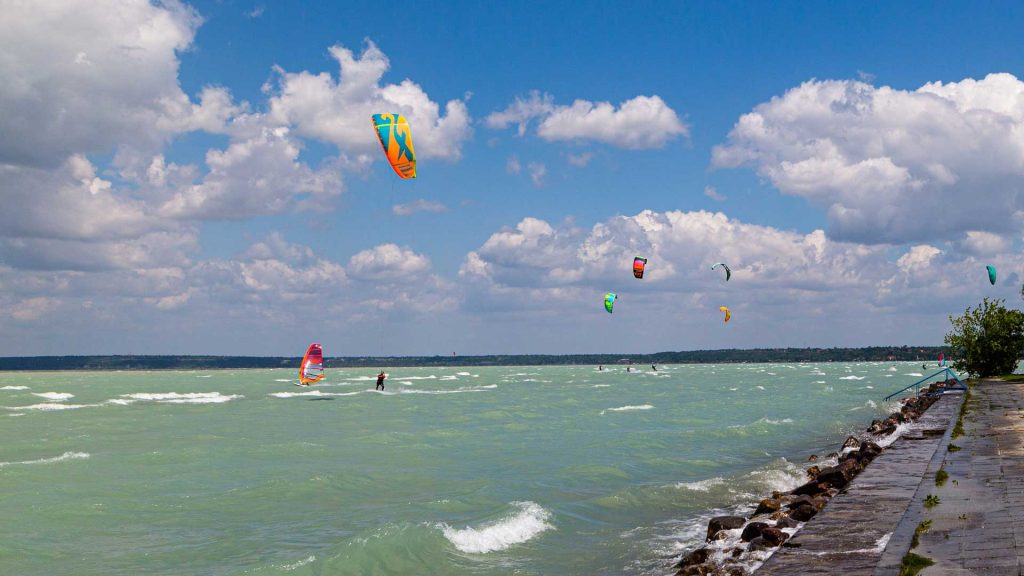 Many considerLake Balatonthe most beautiful during the off-season
Ideal walking weather
Whether during peak season or off-season, the weather is always an excellent excuse for not having a good time. Even if it is not meant as an excuse, the weather definitely has a major impact on our mood. Those who pick the hottest months of the summer to enjoy their holiday do so because they are expecting hot weather throughout their stay. If it turns a bit cold or it rains during the week of their holiday, they are bound to be disappointed. The opposite is also true, however, as people love complaining about the sweltering weather during unexpected heat waves.
So what is the solution? Unfortunately, we do not have a solution for habitual grumblers, but those who enjoy and are happy with even and moderately high temperatures should not hesitate before booking a holiday during May and June.
30-day weather forecast for Zamárdi»
Things that are definitely better during off-season
This argument is related to the previous one, i.e. the weather. Not to get too hung up on this point, but there are certainly many activities that are best done in mild weather. You may have heard people say "it's a lovely day for a hike". Well, that is exactly what we mean. Temperatures between 23 and 27 degrees make hiking, a walk around the city, cycling, doing sports or going on an excursion with a group that much more pleasant. The spring and early summer also the best time of year for a culinary trip, especially if you are embarking on a proper wine tour.
Everything is cheaper during the off-season
Even those with the healthiest of bank accounts will ask the question: "But how much will all this cost?" Even kings like a bargain. This is true, no matter what you are forking out for.
Why is it that you only buy certain products when they are on sale at a discounted price? On the one hand, perhaps you would not even but them otherwise, but making the purchase at the reduced price feels like a win. Or maybe you have been longing for this particular item for a long time, but did not want to spend so much on it or could not afford it. But as soon as it is cheaper, you snatch it up. In the same way, it is worth snatching up off-season holidays because you will get the same quality, the same comfort and level of service, except at a slightly lower price. So why would you hesitate?