A hotel out of a fairy tale
Hotel Platán is a true gem, situated by Lake Balaton. Thanks to its family-friendly size and beautiful surroundings, it is the ideal destination for those who wish to have a relaxing break. It is located in the town of Zamárdi, on the southern shores of Lake Balaton. It is a great place to visit not just for one of the most spectacular sunsets you can catch anywhere around the lake but also because Zamárdi has a wide range of exciting events on offer all summer.
It hosts fantastic music festivals such as Balaton Sound, Strand Festival and ZamJam Festival. It is also home to large-scale sporting events, exotic day trip destinations, museums and a large number of leisure activities.
If you are looking for waterside fun, it is important to stay as close to the beach as possible so that you won't have to walk far, whether you want to have a splash in the lake or take a pleasant evening stroll. In order to have a really memorable holiday, make sure to pick a place that offers great food and a beautiful environment with Lake Balaton right on your doorstep.
This hotel is a mere two minutes' walk away from the beach, so you can dip your toes in the lake in a matter of minutes. Actually, you don't even have to leave the hotel if you are looking for a splash because it also has an outdoor pool that guests can enjoy. You can also lay down on a lounger by the pool, whether for a bit of relaxed reading in the cool shade under the trees or for a spell of sunbathing.
Hotel Platán also has plenty on offer to please those looking for active relaxation. It has a pool table indoors and a superb beach volleyball court, table tennis tables and, for the youngest visitors, a small playground outdoors. And if you feel like hopping in the saddle for a quick ride, you can even hire a bike in the hotel. There are many bike routes and interesting attractions to discover nearby. You should definitely not miss Kőhegy Lookout, which towers over Zamárdi, and offers a breath-taking view of Lake Balaton. It is only a short walk or bike ride away.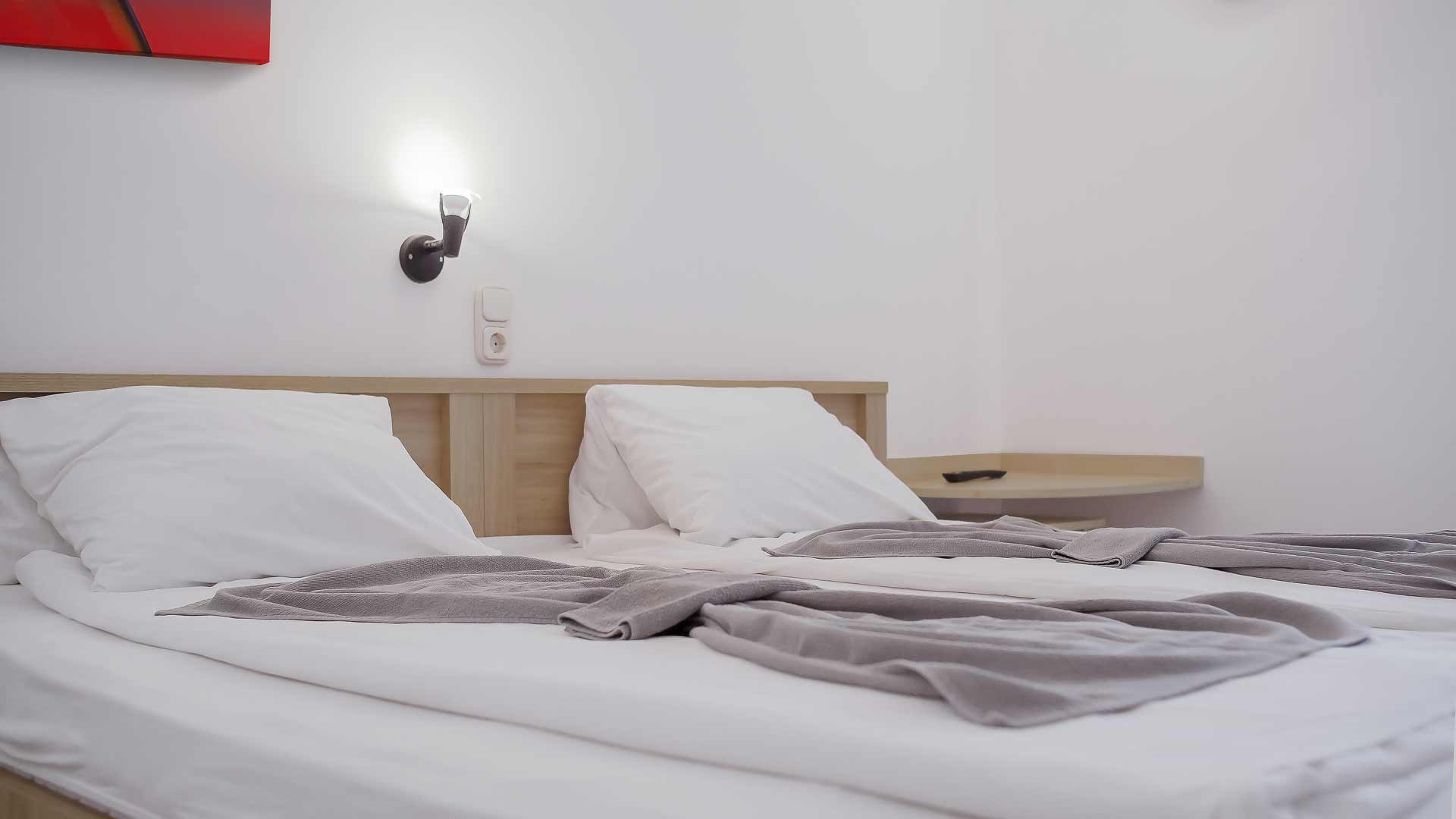 It's all about your comfort
Visiting Lake Balaton promises an experience of real summertime magic, with a range of options to enjoy the beach, go hiking or on boat trips, take pleasant walks along the waterside, participate in any of the varied events or enjoy a glass of wine in the summer evening. This and much more is what guarantees perfect relaxation. But holidays in Hotel Platán are about more than just Lake Balaton. They are also about absolute comfort. You should definitely make the most of all the nearby options during your visit. Here, you will find everything that you need for a truly replenishing and relaxing stay.
Beautiful rooms and free parking
The hotel has 16 beautifully furnished and well-equipped rooms, each with its own balcony. Nothing beats the feeling of stepping out onto your very own balcony, whether to have a long chat before going to bed in the evening or to drink in the sunshine and birdsong that greets you at the start of a new day. The rooms are also equipped with TV sets, and free Wi-Fi is available across the hotel.
You won't have to worry about where to leave your car, either. The hotel has secure parking that guest can, of course, use free of charge.
Services to ensure your comfort
Guests' comfort was the top consideration when designing the range of hotel services and how the rooms would be equipped. Should you have any question or requests, colleagues at the reception are happy to assist. You can hire a safe to keep your valuables in, leave your luggage at the hotel or even have your suitcase delivered if it is too difficult to lug around. The hotel also offers safe storage for your valuables and a wake-up call service so that you definitely don't miss out on any of the activities you want to take part in.
Washing your clothes is the last thing you want to worry about when on holiday, so the hotel also has a laundry service, and you can even have your clothing ironed if you wish. Rooms are cleaned late in the morning every day, and guests have the option to request new towels. If you need additional or fresh bedding or even an anti-allergy pillow, the colleagues at reception will be only too happy to help.
Breakfast is included
At Hotel Platán, you can start each day with a delicious buffet breakfast, and you won't have to worry about the price, either, as breakfast is included in the price of your room. All you have to do is find a seat, whether in the cafeteria or on the terrace, and tuck in. Pour yourself a cup of coffee or tea and you are ready to start the day.
Online booking
Comfort at Hotel Platán starts when you make a booking. It couldn't be simpler or quicker to reserve a room online. Just a few clicks and you have locked down a fantastic holiday in this exceptional environment. You can use any major debit or credit card to pay for your accommodation.